Available Tools
Listed alphabetically below are some of our tools. Call our Engineering Department for a tool not listed. All Tools are torque transmitting and may be run on coiled tubing or snubbing. Many of our tools are patented. Contact Us for Tool Sizes, Specifications, or Assembly/Disassembly Instructions.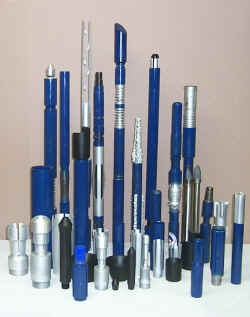 Patents
Many of our tools are patented. Infringements will be prosecuted.
Disclaimer
The products and information contained in this website are intended for general reference. Tool instructions describe desirable results from use of Taylor Made Oil Tools. Actual results may vary due to mechanical limitations or well conditions. Taylor Made Oil Tools shall only be liable for its merchandise and services as set forth in its general terms and conditions. Contact our sales staff for additional information or products not listed on this website.